You're having a baby. Maybe it's your first, maybe it's your second, or maybe it's your eighth (in which case, you are a superhero), and this is an exciting, scary, and truly unique moment in your life. You're considering having some photographs taken of your new darling baby and the newest iteration of your family, and you want something real, something truly unique, something that no one else has, and you don't want to have to travel to the ends of the earth to have it.
Welcome, friend. You've come to the right place. Documentary photography in your very own home might be perfect for you. And I'm about to tell you why.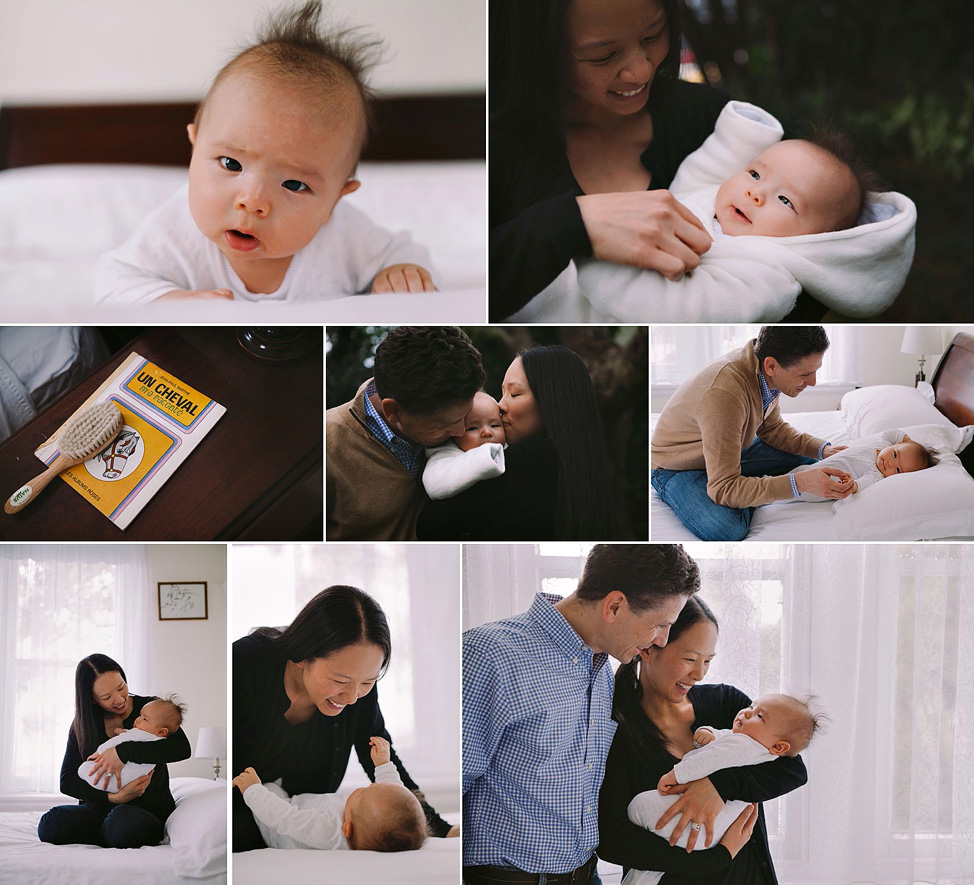 Documenting the growth of your family is important, and being able it in a way that is truly representative of who you are is, to me, the most beautiful thing about photography. There is truly something for everyone when it comes to using photographs to represent yourself at your very best. Want some reasons as to why having a relaxed, candid photographic session in your own home can be the way to go? Let's do it.
1. Do more than just capture this time in your lives – live it. 
The constant love, attention and care you need to provide your little one needn't be a distraction from your photo shoot. They should be a part of it. It's these little moments – cuddling, feeding, tummy time, skin-on-skin, changing, comforting, loving – that you will want to remember when your children are grown. Rather than contriving a moment in a studio, having your photography session at home means that you can capture these important moments that you're already living every day. Your day can go on, your life can go on, and you can revel in the beauty of these little things, knowing that someone is there to commemorate them.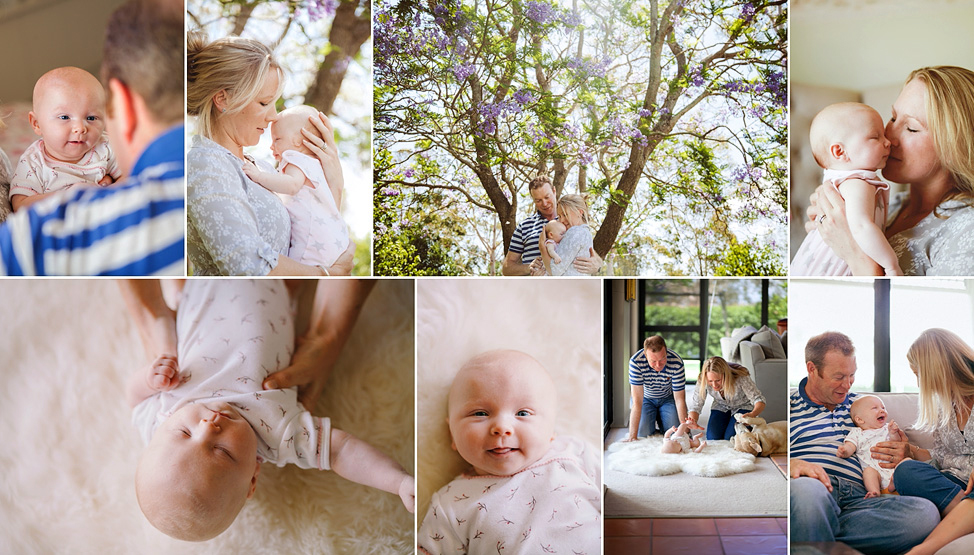 2. Don't leave home, because home is wonderful.
There's nowhere as comfortable as your own bed, or your own couch, and cuddling with your baby is never sweeter than in the very places where you daydreamed of their arrival. When you are in your own comfortable, familiar nest, the happiness and relaxation shines from your face, your shoulders relax, your smiles are big and genuine, and you bask in the glory of being home. Your house is your castle, and it is a reflection of your family and your lives together. And if that castle is messy (like mine), or cluttered (like mine), or terribly unfashionable because decorating isn't your forte (definitely like mine!), it really doesn't matter (really!).  You will feel like yourselves, and we will embrace your home together, and your photographs will be gorgeous. Your baby can wear their own clothes, be wrapped in their own little blankets, and be photographed among all of the special items and spaces you lovingly prepared for them. Your own style and personality are celebrated.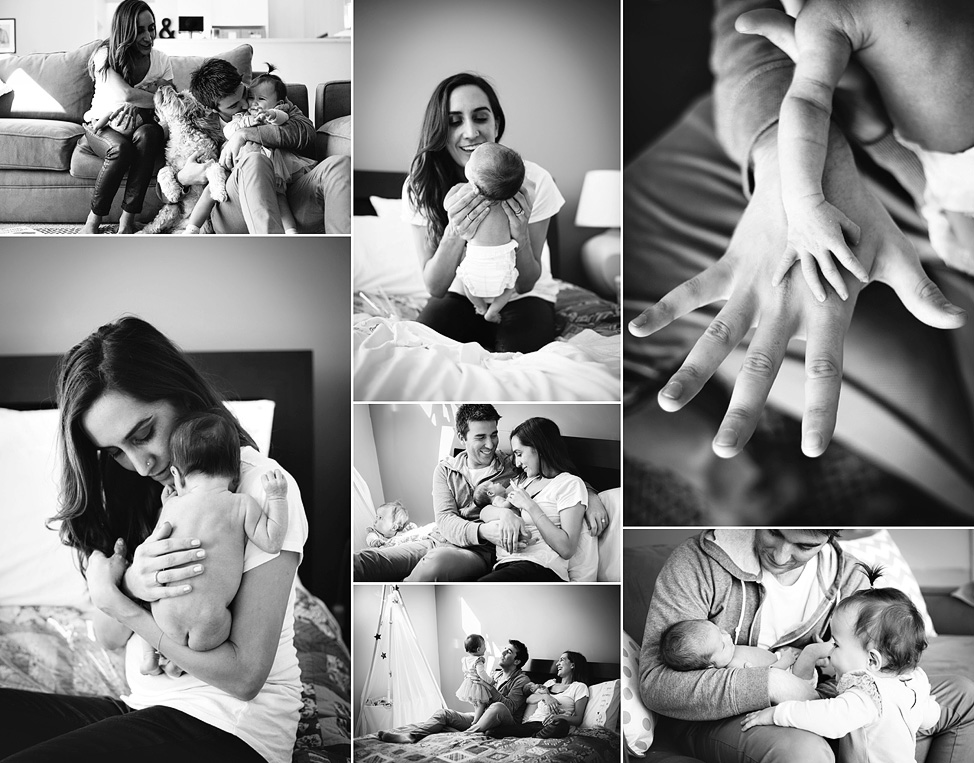 (See this full session here.)
3. Don't leave home, because leaving home is hard work. 
Babies aren't exactly famous for being easy to organise. Think of everything you have to do to get a newborn out of the house, plus the rest of the family, taking enough stuff to deal with every possible situation, then add in trying to look good yourself, feel comfortable, keep everyone happy, and be on time… it's enough to make you want to lie down and take a nap.  Skip all the hassle, save yourself the time, energy, and stress, and just invite a photographer in instead. You'll have everything on-hand for every scenario, your baby will be happier not having been traipsed from pillar to post, and you'll be frazzle-free and relaxed.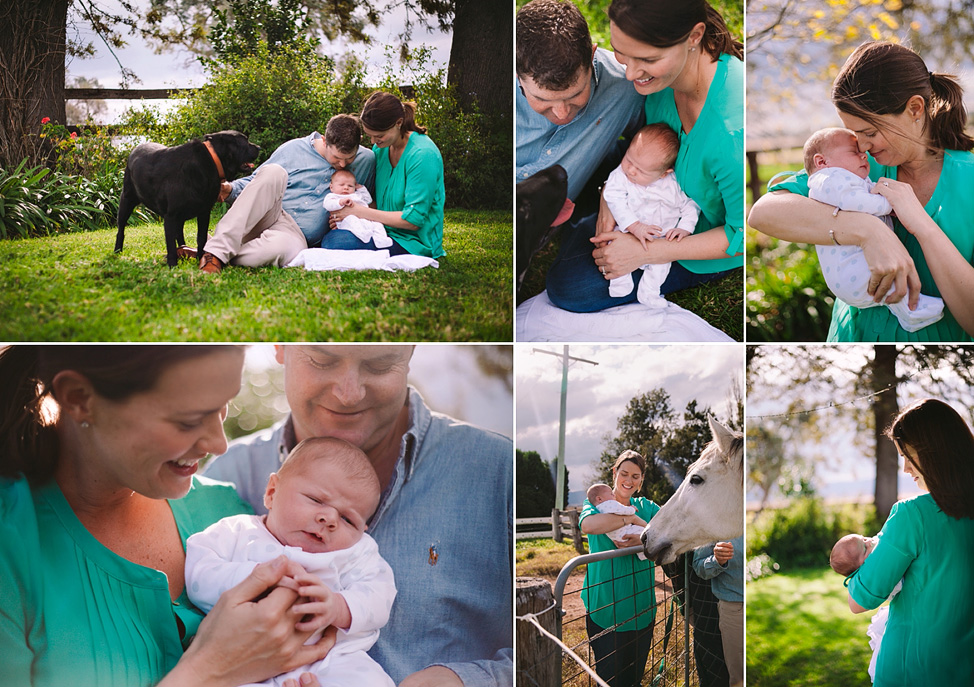 (See this full session here.)
4. Don't spend hours posing. 
Photographs of babies in beautiful shawls and baskets are lovely, but the process to capture those perfect images can be very time-consuming. You don't need to spend four hours getting the perfect shot of your baby asleep if you don't want to – instead, invest an hour or two in capturing them as they really are, and you as you really are. Unposed newborn photography can yield amazing results that illustrate your genuine burgeoning relationship with your new little one – and the best part is,  your images will be utterly unique, just like your child.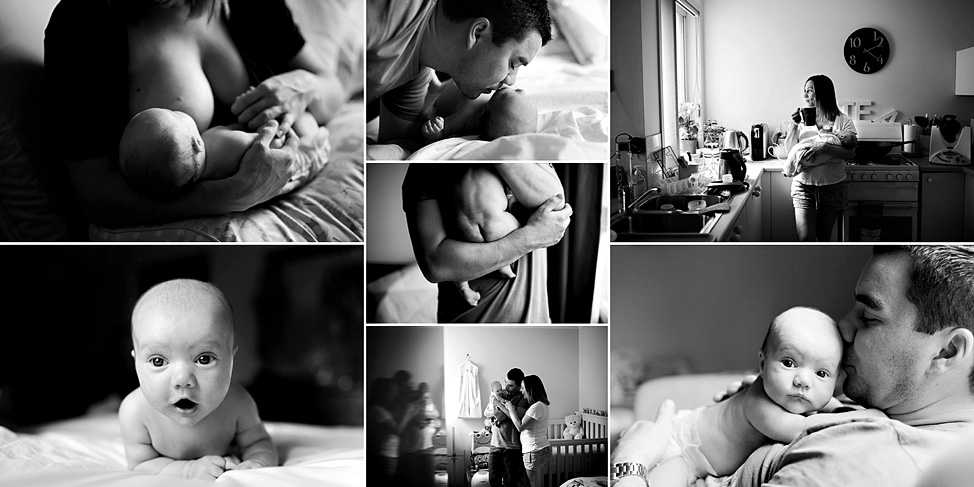 (See this full session here.)
5. Capture memories of your home.
Ever have that great, nostalgic experience of flipping through your parents' photo albums and seeing your childhood home in all your pictures? Where you can point and list all of the beautiful, fond memories you have inside the walls of that house, notice all the sweet details of the decor, and exclaim, "I remember that!" Shooting in your own home gives you the absolute pleasure of preserving the memory of a place that will one day be of great emotional importance to both your children yourself. In years to come you can sit down with your kids, flip through the photo album, point at your professional photographs and say, "This is where we brought you home. This is the crib where you slept. This was life as we knew it." Preserving the memories of places can be just as important and poignant as preserving those of people.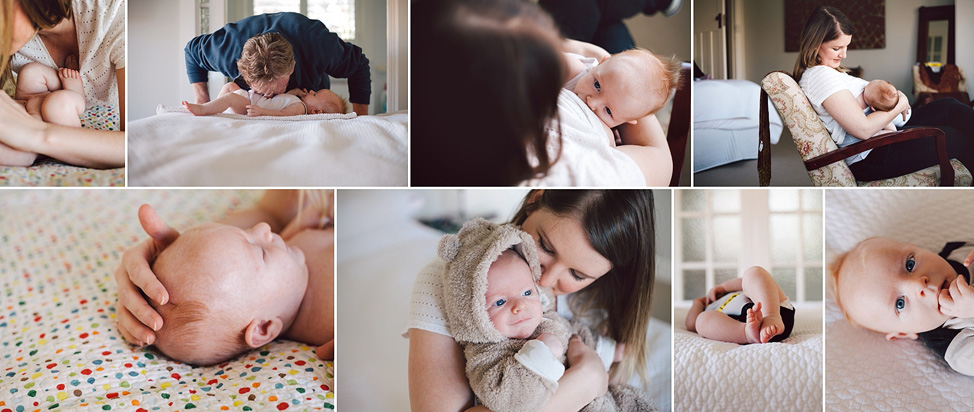 (See this full session here.)
6. Relax and enjoy the photo shoot experience.
Hey, you're like Beyoncé, with your own private documentary photographer. Have a coffee, lay in your own bed, cuddle your child,  do what you love, laugh as much and as long as you want to. Having your photo taken doesn't have to be a pain. You can enjoy it!
Need more reasons? Check out this gallery and see what more unposed baby photography can look like. Ready to book? Amazing! Contact me here. 
I'm Prue, and I'm a family photographer from the Hawkesbury, NSW.