There are oft-repeated jokes about second children: that they are parented completely differently to their firstborn siblings. Firstborn children enjoy hand-picked purees for their first food – second children get whatever everyone else is eating chucked on their high chair tray. Firstborn babies have their naps and bowel movements agonised over – as long as second babies sleep occasionally and their nappy isn't dragging on the ground, they're good to go. Secondborn children enjoy a far more relaxed toddlerhood than their firstborn siblings did, since their parents now know that as long as everyone is alive at the end of the day, it's considered a win. Firstborn babies have their photograph professionally taken soon after birth and then ten phone photos a day afterwards, all of which are put in a comprehensive baby book – second babies are lucky if their baby book contains anything but their umbilical stump and a grainy phone photo that Grandma took.
(As a second child myself, I know what I'm talking about!)
But that's not the way it has to be! Commissioning a photographer for your second-born baby's first days is one way to fight back against the inevitably more laid-back tack you'll take in your second parenting journey. Don't try to do it all yourself (can you even balance a toddler on one hip, a cup of coffee in hand AND a breast pump WHILE taking great photos of a newborn?!) – I can take this responsibility right out of your hands, by creating a beautiful documentary collection that will show your second child exactly what life was like when they were born.
And, in my well-educated opinion, an unposed session after your second child is born can be even MORE meaningful than photographs with just your firstborn. Let me show you five ways to have a session with your new, larger family, that will make you fall in love with your second-born all over again – for years to come.
1. Have side-by-side beautiful moments of both of your children.
Shooting in your own home means that while the children may change, the artwork on the walls may change, and the furniture may move around, some things stay the same. I photographed Maddie in 2013, and part of our (fully black and white) session was giving Maddie a bath, which resulted in one of my favourite images ever (on the left). Three years later, I was asked back to photograph their darling second daughter, Lucinda. And what did we do? We gave that baby a bath, of course. The more things change, the more things stay the same. Having unposed, candid, authentic photographs that tie the histories of your children together is a beautiful thing – for you and for them.
2. Document a family moment that you never want to forget.
Your day looks different now that it is has before and it ever will again – this is truly an utterly unique time in your life. When your children are grown, you're going to reminisce over and want to remember the little things, the daily rituals that mean so much, the way life truly was. Having a photographer in your home to capture a day in your second child's life is just as important – if not more so! – that it was with your first child – because now you have two little souls to capture, two sets of dimpled hands to remember, two small faces to see change in front of your very eyes. Seize the moment and secure a memory of this moment!
Maybe that means doing something similar with your second baby that you did with your first – a bath, for instance (see above!). Maybe it means documenting an entirely new daily tradition – putting the baby to bed together, going for a walk in the park with the kids and the dogs, even going out for coffee and cake to celebrate the new arrival.
In this session, her parents bathed Lucinda in the same spot as they had bathed Maddie years before, but this time Maddie was there to help and enjoy it as a big sister. So gorgeous!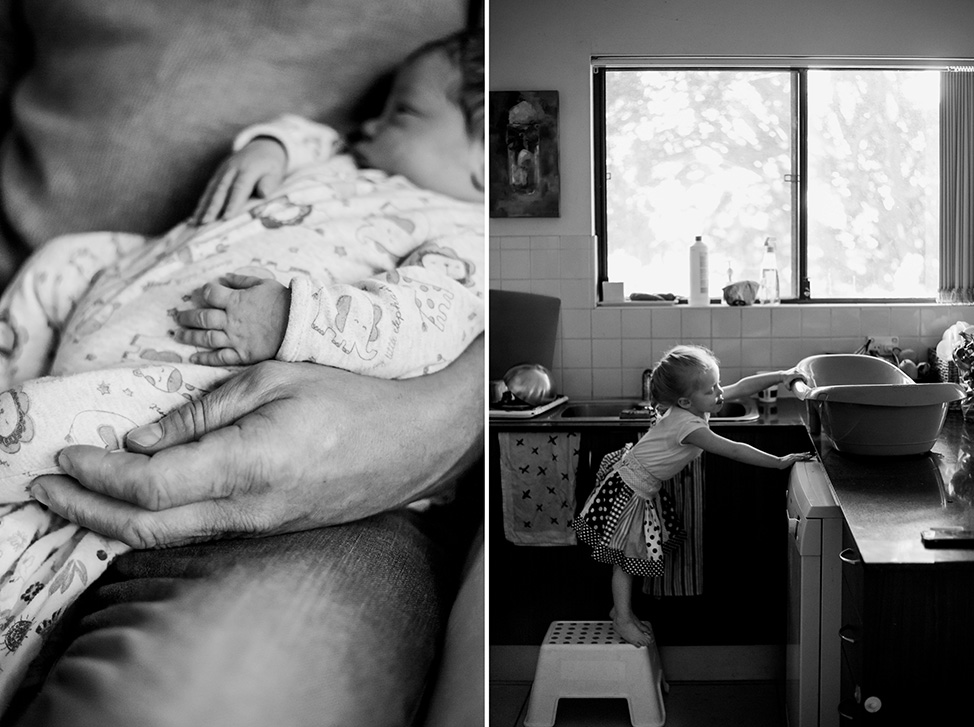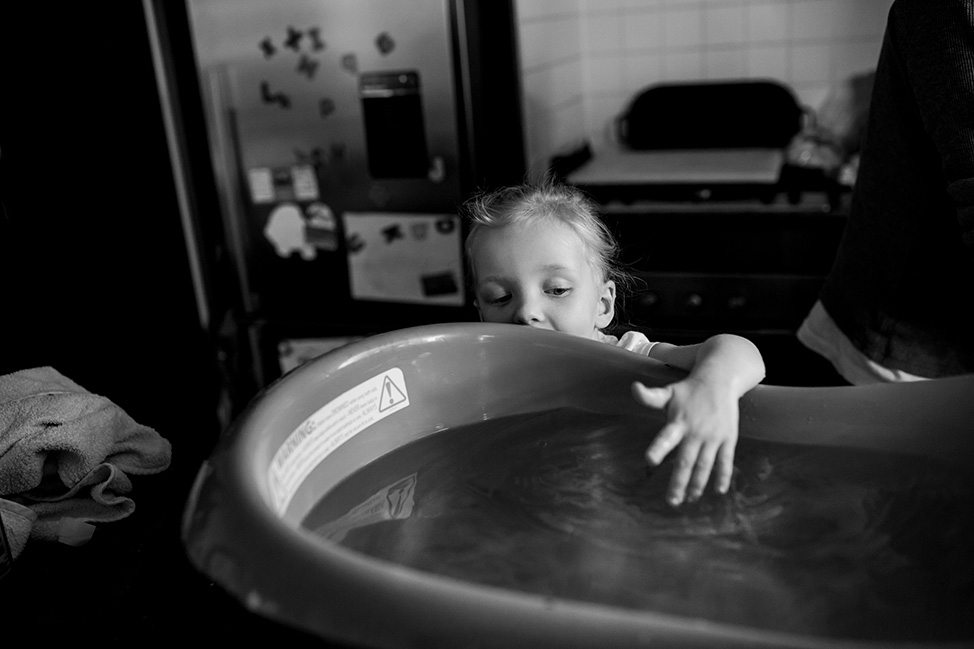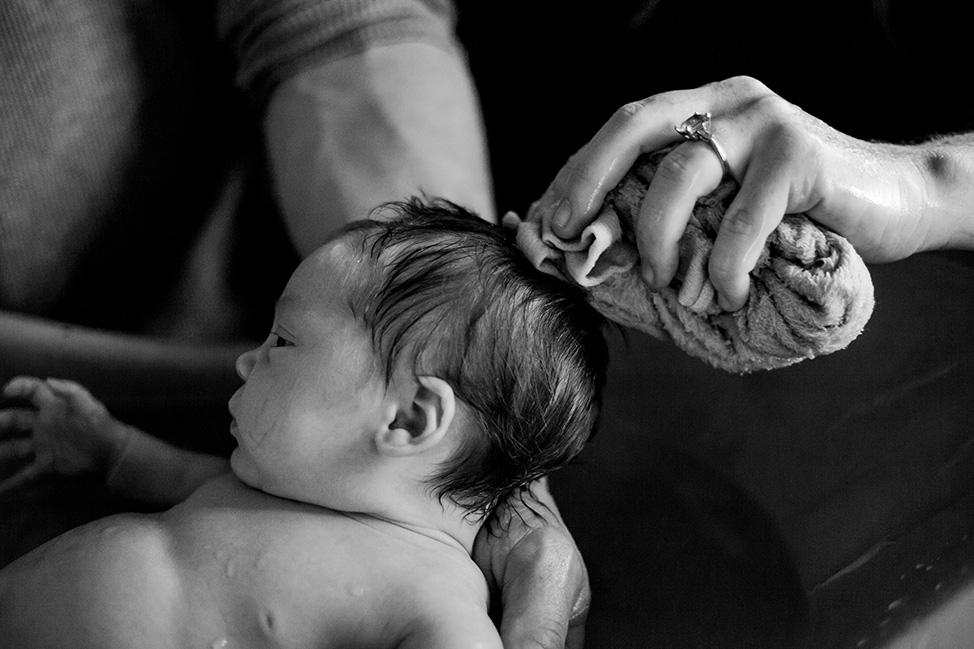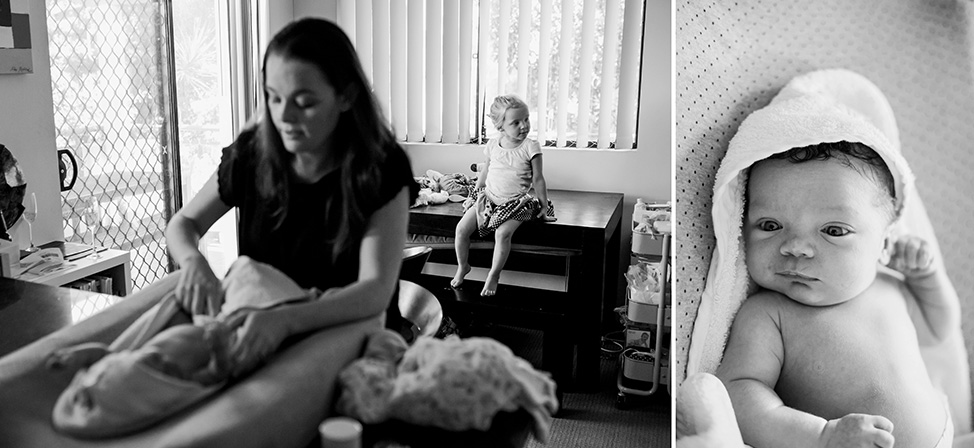 3. Get new family photographs. 
Your family has grown by one soul (or maybe two or three!), and things have shifted in ways that you can't even explain. What you do know is that your family now looks different and feels different that it did only a few short weeks ago! Your family photographs from before are suddenly outdated – time to fix that. Unposed family photography will be perfect for this moment, since you don't want to spend hours sitting in a stuffy studio just to get photographs that look like everyone else's.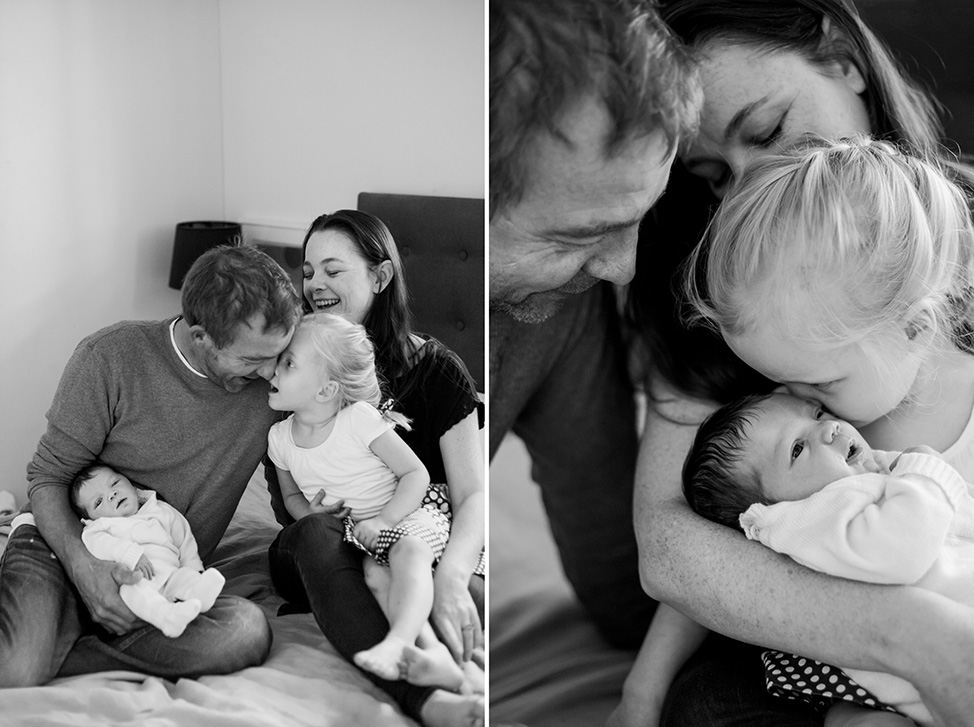 4. Documenting the new, growing relationship between your children.
It's like nothing you've ever seen before – this burgeoning bond between your little ones. You're going to absolutely adore it, you're going to swoon over every small tender moment, and you're going to want to have a record of how it grew.
And, look. I'm not one to pull the wool over your eyes – the reality is that it might not always be cuddles and gentle touches (especially with toddlers – let's be honest) – but that's perfectly okay. Real life is wonderful, because it's not perfect, and we want to celebrate and honour the honesty of your older child's feelings and reactions. The pure joy of documentary photography is that we don't need to engineer moments to show a contrived or disingenuous connection – it's that we celebrate what's actually there, even if that's the tiny moments, the fleeting love. That's beauty. Those are photographs worth having.
(And, just quietly, some of my most lovely images have come from reluctant toddler siblings. And they have been some of their parents' most-loved images.)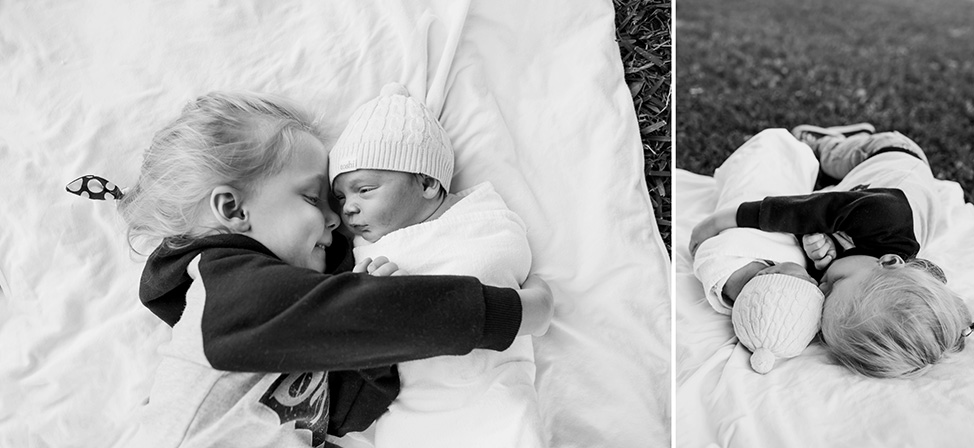 5. Have beautiful photographs of your second child, and your new life as a family of four (or five, or six, or seven). 
Beautiful photos of your new baby. Beautiful photos of the everyday moments in your new life. Beautiful photos of your bigger children, and beautiful photos of you. What more could you possibly want?
Contact me now to seize this moment and make a historical record of this amazing time in your lives. Your children will thank you. Book now.